The complete buyer's guide to made in USA wooden toys.
From block sets, to dollhouses and train sets, America still has plenty of wooden toys to offer the world. It can be a bit tricky to find them though, that's why we have compiled a list of our favorite manufacturers that still proudly make their toys in the USA.
Why wooden toys?
Wooden toys once used to be the standard. Not too long ago block sets and doll houses were the staple of any child's playroom. These days, they have generally been replaced by plastic toys and Ipads.
But wooden toys still have a lot to offer. For one thing, they're by far the most sustainable option out there. Not only are they made by from renewable resources, but they also tend to be durable, often being past down over several generations.
Secondly, they're free from any potentially harmful chemicals or materials, provided safe paint or varnish is used, which is practically always the case for American made toys.
And lastly, there's just nothing that radiates as much warmth and creativity as beautiful wooden play sets!
Our list of wooden toys made in USA.
Beka – looms and toys from the North
Beka is a small family-owned and operated workshop located St. Paul, Minnesota where they have been hand-crafting wooden toys and looms since the 1970's.
As their main wood source, they use Hard Maple, a tree that's native to northern America and is harvested according FSC standards. To top it off, they make sure that any plastic parts on their toys are made in the USA as well.
Camden Rose – wooden toys made in the Midwest
Camden Rose sells all kinds of wooden toys and play sets made by craftsmen in America's Midwest from regionally harvested maple and cherry.
On their Palumba online store they also sell some items that are not made in the USA, most of which are sourced from a women's cooperative in Peru so be sure to check the product description before you buy.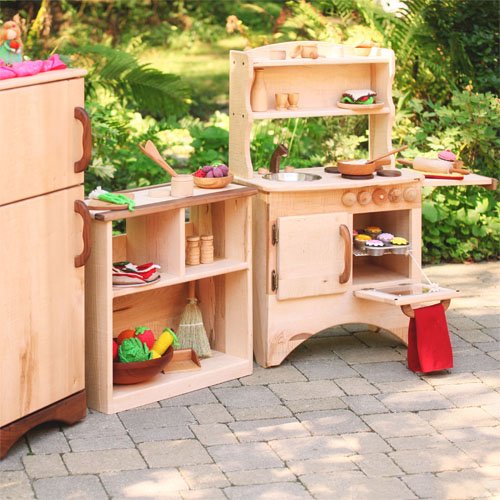 Elves and Angels – true to their name
If you're looking for expertly crafted and beautifully detailed wooden dollhouses and furniture play sets, Elves and Angels is definitely worth checking out. All of their wooden toys are designed by David and his wife, Susan, and manufactured on their farm in northern Maine, USA.
They use wood from locally harvested white pine, cherry and birch, as well as some CARB 2 Compliant, Baltic Birch plywood. As their finish they use non-toxic Danish Beeswax Oil, a natural, safe, food grade oil. Be aware that some of the products they sell, mainly wooden figures are made in Europe.
Lapp's Toys – clip clopping their way from Pennsylvania
Another family operated business is Lapp's Toys. They design, manufacture and test their toys, play sets and children's furniture in Lancaster County, Pennsylvania under their Clip Clop brand. They offer a wide range of toys; from dollhouses to toy trucks, kitchen play sets, a fun collection of marble tracks and much more.
For their materials they mainly use imported Baltic Birch wood because of its excellent quality and sustainability. That does mean that, if it's important to you that the toys are 100% made in USA, this might not be the best option for you.
Lily and River – perfect for little acrobats
Heading over to Phoenix, Arizona we find the Lily and River workshop where they make beautiful, play sets for little acrobats in the making. While they specialize in climbing and balancing equipment, they also offer several other products, such as educational games.
As a bonus, they finance the planting of a tree for every product sold!
Like Lapp's Toys they do use some imported woods, mainly Italian and Baltic hardwoods, so if you prefer 100% American made toys, you might want to take a look at some other brands.
Lincoln Logs – once again made in the USA
You might have already heard about Lincoln logs. Their concept was first brought to market in 1916, so they have quite the history. Unfortunately, for a lot of that history they were made overseas. That is until, in 2014, K'nex, which recently bought the brand, brought their production back to the USA!
So if you ordered a set that has a 'made in China' label on it, it was probably manufactured before 2014.
Now their wooden pieces are made by Pride Manufacturing, a company located in Maine, USA. Some kits contain some plastic components as well, the origin of which we currently don't know.
Maple Landmark – made in the hills of Vermont
Nestled between the forest and hills of Vermont, in the small town of Middlebury, you can find the Maple Landmark workshop. Founded in the 1980's they have grown into one of the larger wooden toy makers in the USA, employing over 40 people in a 28,000 square feet facility. That said, the company is still run by the original founders, with their two sons now part of the business as well.
For their toys, they primarily use maple, as well as some pine, cherry and oak. Almost all lumber is sourced from local, family owned, multi-generational mills that steward their own woodlands and work with responsible loggers for timber harvested elsewhere. In fact, only about 1% of Maple Landmark's budget goes to purchase foreign-sourced items.
North Star Toys – cute cuttings from New Mexico
Since 1979, husband and wife team Tim and Connie Long having been making toys in New Mexico, USA. Their toys are made from American hardwood in a workshop that runs 100% on wind and solar energy.
While they offer a smaller selection than most other companies in this list, they do offer some very cute options, especially for younger children.
Oliver and Adelaide – baby gifts made in the USA
Oliver and Adelaide is a brand that sells baby gift sets that, among other things, offers a small selection of wooden toys. While they don't produce these themselves, almost all are made in the USA. They also tell you clearly state the country of origin of each product on its page.
Roy Toy – heritage building sets from Maine
The history of Roy Toy goes back to the 1930's when Roy K. Dennison started making wooden construction sets in Maine, USA. After his death in the 1960's the business went dormant. Until, in 1992, his grandson set out on a challenging journey to revive his grandfather's heritage.
Roy Toy still hand cuts their sets from pine logs and stains them with a non-toxic dye, creating the same bright red wooden gables and traditional green wooden roof planks as originally designed. For those who prefer plain wood or wants to paint their sets themselves, unpainted sets are also available.
Uncle Goose – American block sets from beautiful Basswood
Uncle Goose could well be called the king of wooden block sets. No other American manufacturer offers such variety of elegant designs as this company. From letter blocks in a range of languages to fun shapes for kids to play with.
Practically 100% made in the USA, their blocks are cut and printed in Michigan, using American Basswood grown in the Great Lakes area and ink from an American manufacturer, which is third-party tested for safety. Even their packaging is made in the USA, often using recycled cardboard and paper.
Whittle Shortline – wooden trains from Missouri
Beautiful, realistic wooden train sets suitable for both adults and children. That's what the father and son team of Whittle Shortline has been making in Kirkwood, Missouri since 1996.
Their trains are compatible with other major wooden railways like Thomas, Brio and Chuggington. Unfortunately, we currently don't know from where they source their wood or other components.
Any American-made wooden toy-brands we missed?
I hope you found something that peaked your interest! Know of any brands that make wooden toys in the USA that we missed? Be sure to let us know!
We will also be on the constant lookout, so be sure to revisit this post for updates.